Squeezebox
Jump to navigation
Jump to search
<google>ENGELSK</google>
Squeezebox
The Squeezebox is a Hi-Fi device that can stream digital music and Internet radio to your stereo. It has built in wireless network so you can place it anywhere. You can connect multiple Squeezeboxes to one SqueezeCenter - one per room if you like! And then either have them all play their own thing, or synchronize any or all of them together. You set a max bit rate to stream to individually Squeezeboxes so if you have one at remote location connected over the Internet, it can still play your favorite music collection from your home server, even if it is saved in an uncompressed or lossless format.
To re register a Squeezebox Duet controller You need to reset it to Factory Settings. Next time it is turned on, it will tell You what email address it is registred to, and give you the option to re register the controller.
Squeezebox Duet Controller
Connecting to the controller
Message log
Unit not charging
Applets for Duet
Sound missing in headphone jack
Use a computer as client
SoftSqueeze
There is a free open source software version of the Squeezebox called SoftSqueeze. If you install that you can play your music on any PC connected to your network, or listen to your favorite music from work. SoftSqueeze emulates the Squeezebox and Transporter on Windows, Mac OSX and Unix computers.
In Squeezebox Server 7.4 SoftSqueeze has been replaced with SqueezePlay. SoftSqueeze is still being developed and maintained by the Squeezebox community. For more information on SoftSqueeze please visit the SoftSqueeze page on Sourceforge.
SqueezePlay
Use Raspberry Pi as client
Max2Play
Max2Play offers a browser based administration interface for mini-computers like Raspberry Pi or Odroid on a Linux basis. With Max2Play, applications, so-called Max2Play extensions can be installed and administrated on your mini-computer without any Linux knowledge. The controls can be accessed via smartphone, tablet or computer, no connection of any mouse or keyboard to the mini-computer necessary.
Max2Play is focusing on audio player features: Max2Play supports 3 different audio player, MPD, shairport and squeezelite. Max2Play supports Multi-room Audio and most relevant Raspberry Pi sound cards.
Max2Play is available for Raspberry Pi, Raspberry Pi2, Odroid U2/U3, Odroid XU4, Odroid C1
piCorePlayer
piCorePlayer is a very system (piCore linux) which is running in RAM, and is not writing to the sd-card. Therefore, it is very robust and will not corrupt your sd-card even so you can simply cut the power without any risk of corruption of the system.
piCorePlayer can be used in three ways:
As a Squeezebox player that connect to your existing Logitech Media Server (LMS). (See how-to here-work in progress)
As a LMS server (See how-to here - work in progress)
A combined LMS server and Squeezebox player.
Use an Andorid device as client
Logitech Squeezebox Controller App is the official app from Logitech.
Squeezer
Control your SqueezeCenter ("Slimserver") and SqueezeBox (or multiple squeezeboxes) from your Android phone. Features include: Now playing, artwork, seeking within tracks. Browse the library by artist, album, song title, genre, year, or playlist. Browse the music folders (if supported by the server). Full library search. Internet radio support (browse, staff picks, search). Scan the local network for compatible Squeezeservers. Squeezer is free, and open source. For more information, to file a feature request, or to contribute, see the project home page.
Squeeze Commander
Squeeze Commander offers the following key features: Automatical Server Discovery Support for password protected Squeezebox Servers Now Playing screen with Artwork Fast incremental library browse Fast library search Music download to SD card Internet radio browse Multi-Player and Multi-Server support MySqueezebox.com support Links
Use an iPhone as client
SqueezeCenter Installation
Install Squeezecenter
Scan Music
Install Plugins
Set language=Danish
In the Duet Controller set following: Time format, Date format, First day of week (Denmark = monday)
Import last TrackStat backup if you have one
This might not be nessesary
In SqueezeCenter Advanced - Performance set Server Priority to "-6 Above Normal"
In SqueezeCenter Advanced - Performance set Scanner Priority to "5 Below Normal"
MySQL Settings are stored in C:\Documents and Settings\All Users\Application Data\SqueezeCenter\Cache\my.cnf
Room Correction plugin for Slimserver
Room Correction plugin for Slimserver
Dead Squeezebox
Hjælp til Logitech Squeezebox Classic
Citat:
Det som oftest fejler i SB Classic (ver.3) er WiFi modulet som som sidder i den. Det får først displayet til at blinke for herefter at slukke helt og den ophører med at virke.
Jeg har skiftet modulet i min, der skal ikke loddes, da WiFi modulet er et mini-pci som sidder i et slot-in.
Modulet fås på E-bay, jeg bestilte det her:
Beskrivelse / billeder:
Til en start kan du forsøge om de to kort sidder løst som ovenfor beskrevet.
Squeezebox Duet
Squeezebox Boom
Look here what's inside:
Squeezebox Radio
How to open Squeezebox Radio
Its actually pretty simple once you figure it out (took awhile)!
Carefully remove speaker grille using a credit card or a (plastic) putty knife if you have one.
Remove the two T9 Torx screws to the right of speaker.
Place your left thumb on the left side of the display panel and right thumb on the right side of the display panel. Press down slightly and slide the panel to the left.
Carefully lift panel away from chassis noting wires for speaker, power and headphone jack remain attached to chassis.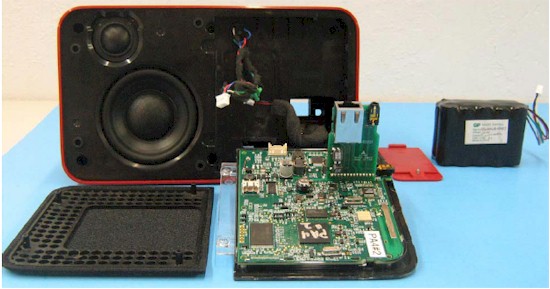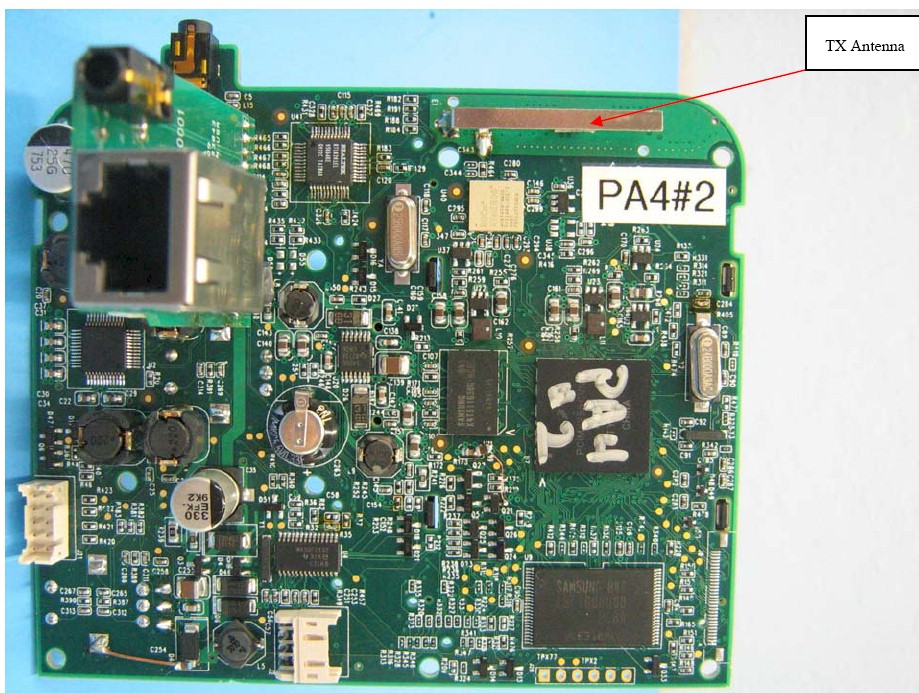 Replacing the panel- Now here's the tricky part.
Guide the control panel back into the chassis until seated and slide panel to the right.
Replace Torx screws.
Squeezebox UE Radio and how to 'downgrade' to Squeezebox Radio
NB:Remember to select the SCP protocol It is ok to upgrade to 7.7.3 r16676 when the radio asks for it after downgrading
SqueezeCenter
SlimServer (former SlimServer) is a free open source streaming audio server created by Slim Devices (now acquired by Logitech). This is where you store the music you want to play on a Squeezebox. It supports MP3, AAC, WMA, FLAC, Ogg Vorbis, WAV and more! If you want to try for yourself and experience what a Squeezebox can do download and install it. It has a web based interface so it can be controlled from any PC. It includes the SoftSqueeze player you can install from your SqueezeCenters Home page (in the Help section).
SqueezeCenter support plugins, and a lot users have written plugins for almost everything like: Selecting what music to play, Games, Skins for the SqueezeCenter web interface, Remote controls.
Install TrackStat and can't make it show any history read this: Fix for TrackStat error 'Illegal mix of collations'. To make SqueezeCenter run as a service read here: Run SqueezeCenter as a Service.
<google>ENGELSK</google>